Summery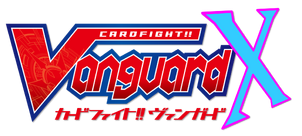 Cardfight!! Vanguard X is a fan fiction series made by mrd256.
It acts as a sequel to G that takes place 20 years later.
The theme of the story is - "To reunite a family".
The fan fiction introduces a new fan made mechanic known as Soul Drive.
Read the story here: https://www.fanfiction.net/s/13317686/1/
You can also join the Discord to follow the story here: https://discord.gg/mFfHPMz
Story
The story follows the events of a young girl named Alex Shindou, the daughter of the famous Tokoha Anjou and Chrono Shindou, who has mysteriously disappeared. Alex's dream is to become a legendary fighter like her father, so she fights with all her heart, and unleashes her underlying potential with the power of Soul Drive!
Cast
Protagonists
Antagonists
Sub Characters
Yuya Asukawa
Yuko Asukawa
Minor Characters
Returning Canon Characters
Kazuma Shouji
Taiyou Asukawa
Tokoha Anjou
Shion Kiba
Am Chouno
Luna Yumizuki
Returning GV Characters
Themes
(These are mentally inserted right before the showing of the chapter name (OP) and before the preview (ED), imagine your own sequence for the non-made up ones)
Opening Theme 1: ZERO!!! (Devil is a part-timer OP)

Artist: Minami Kuribayashi
Chapters: 1-14 (ending on Chapter 1)
Opening Theme 2: Just Fly Away (Gundam Build Fighters TRY OP2)

Artist: EDGE OF LIFE
Chapters: 15-??? (ending on Chapter 14)
Ending Theme 1: Itsuka Sekai ga Kawaru made (Kishuku Gakkou no Juliet ED)

Artist: Riho Iida
Chapters: 2-14
Ending Theme 2: Eternal Star (Island ED)

Artist: Yui Asaka
Chapters: 15-???
Sets for the series
Trial Decks
Booster Sets
Community content is available under
CC-BY-SA
unless otherwise noted.